Ever been to the beach? Maybe for you the highlight of summer is a week or two spent diving into salty waves and lying on warm, sun-drenched sand.
But how disappointing it would be to arrive at your beach destination just to find that the house you'd planned to stay in had been shaken from its foundation, like the one pictured here!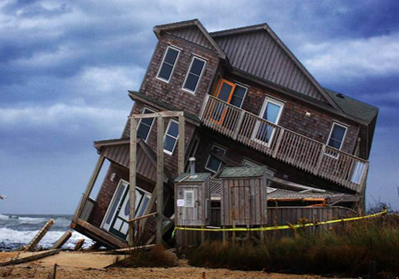 How could this happen? It's all about the foundation – the very thing the house stands on. Even the most beautiful house or building can't stand through storms and years of use if it isn't built on a strong, solid foundation.
Maybe you're thinking, "What's all this got to do with me?" A lot, really.  Because a life that isn't built on a strong foundation can't stand through the storms, either, and is in danger of ruin, just like this beach house.
At Calvary Chapel Greer, we call our youth group Foundations because we understand how important it is to build our lives on the strong, solid, unshakable, and unsinkable foundation of Jesus Christ.
If you are a middle- or senior-high school student looking for a place to hang out with other kids your age and enjoy Bible teaching, games, and (of course!) snacks, please come join us. We meet every Wednesday evening from 6:30 to 8:30, and often enjoy other special events like snow tubing, jumping high into the air at a trampoline park, or catching a Christian concert. We would love to have you become part of our tribe!
Parents, please be assured that it is our goal to partner with you in building a solid Christian life foundation for your teen. Our vision is to see the youth of Greer receive Christ, walk in relationship with Him, be established in their faith, and flourish as servants of the King.
 For more information call 864-877-8090.
As you therefore have received Christ Jesus the Lord, so walk in Him, rooted and built up in Him and established in the faith, as you have been taught, abounding in it with thanksgiving. – Colossians 2:6-7